2017 Martinez Relays Date--Saturday, March 11!
Join Us for the oldest Relays in Northern California on Saturday, March 11 at
Alhambra High School, Martinez!
• Medals to the top five teams in each event
• Trophies to the winning boys and girls teams

• "Doggie Diner" Snack Bar open all day
• Official results posted by FordTiming
*This is an ALL RELAY meet--including field events! Be sure to bring some folding
chairs as there are a limited amount of bleachers!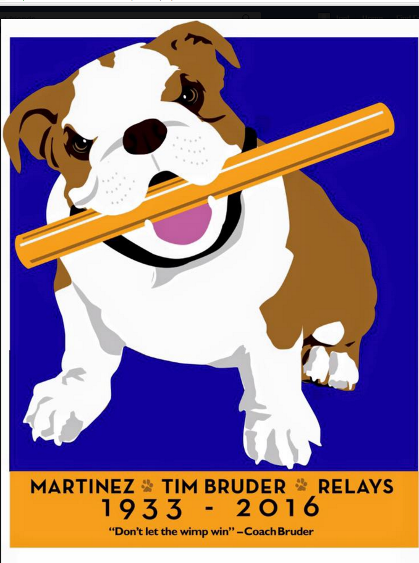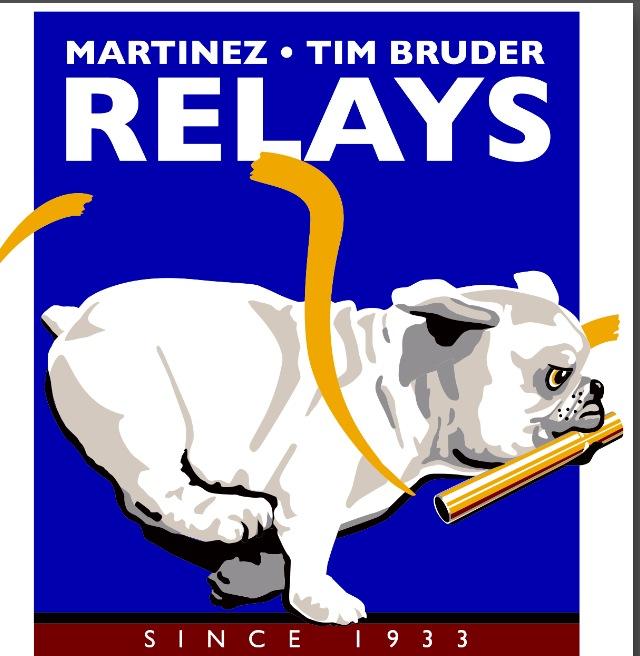 FOR SPONSORSHIP

OPPORTUNITIES PLEASE

CONTACT-
Coach Katherine Hern
khern@martinez.k12.ca.us
Martinez Relays Records
| | | | |
| --- | --- | --- | --- |
| | | | |
| | | | |
| B Varsity 4x1600m | San Ramon 18:04.92 2010 | B Varsity Long Jump | Kennedy 64-06.50 1975 |
| G Varsity 4x1600m | Antioch 22:07.7 2000 | G Varsity Long Jump | Granada 50-03.25 1978 |
| B F/S 400m Shuttle Hurdle | Westmoor 1:09.1 2004 | B F/S Long Jump | St. Mary's 55-07.00 1994 |
| B Varsity 400m Shuttle Hurdle | Las Lomas 59.90 2006 | G F/S Long Jump | El Dorado 41-09.00 2015 |
| G F/S 400m Shuttle Hurdle | Benicia 1:14.70 1996 | B Varsity Triple Jump | Moreau Catholic 130-09.00 1976 |
| G Varsity 400m Shuttle Hurdle | Pittsburgh 1:07.0 2000 | G Varsity Triple Jump | Tamalpais 102-08.50 2013 |
| G F/S 4x100m | Deer Valley 50.1 2001 | B Varsity High Jump | Northgate 18-08.00 1978 |
| B F/S 4x100m | St. Mary's 45.3 1996 | G Varsity High Jump | Santa Rosa 15-00.00 2013 |
| G Varsity 4x100m | Silver Creek 48.2 1978 | B F/S High Jump | El Dorado 17-06.00 2008 |
| B Varsity 4x100m | Woodrow 42.1 1972 | G F/S High Jump | El Dorado 14-06.00 2015 |
| G F/S 4x800m | Amador 10:10.0 2004 | B Varsity Pole Vault | Miramonte 27-06.00 2002 |
| B F/S 4x800m | De La Salle 8:37.6 1996 | G Varsity Pole Vault | Las Lomas 23-07.00 2010 |
| G Varsity 4x800m | Carondelet 9:32.1 1996 | G F/S Pole Vault | Mercy 17-00.00 2013 |
| B Varsity 4x800m | Washington 8:00.8 1969 | B F/S Pole Vault | Benicia 21-06.00 1998 |
| G F/S 800m Sprint Medley | Deer Valley 1:54.3 2001 | B Varsity Shot Put | Analy 165-00.00 1978 |
| B F/S 800m Sprint Medley | Newark Memorial 1:39.8 2001 | G Varsity Shot Put | Carondelet 107-02.00 1999 |
| G Varsity 800m Sprint Medley | Hercules 1:49.5 2007 | B F/S Shot Put | Newark Memorial 138-00.00 2005 |
| B Varsity 800m Sprint Medley | De Anza 1:32.2 1995 | G F/S Shot Put | St. Mary's 114-00.50 1997 |
| G F/S 3200m Distance Medley | Miramonte 13:14.6 2009 | B Varsity Discus Throw | Los Altos 454-00.00 1975 |
| B F/S 3200m Distance Medley | De La Salle 11:17.6 2004 | G Varsity Discus Throw | Clayton 332-07.00 1994 |
| G Varsity 3200m Distance Medley | Sacred Heart 12:28.5 2002 | B F/S Discus Throw | Benicia 341-04.00 2003 |
| B Varsity 3200m Distance Medley | Berkeley 10:17.3 1965 | G F/S Discus Throw | Newark Memorial 267-03.00 2001 |
| G F/S 4x200m | Deer Valley 1:47.8 2001 | | |
| B F/S 4x200m | St. Mary's 1:33.9 1997 | | |
| G Varsity 4x200m | El Cerrito 1:42.6 1995 | | |
| B Varsity 4x200m | Castlemont 1:27.7 1960 | | |
| G F/S 4x400m | Castro Valley 4:17.3 2002 | | |
| B F/S 4x400m | St. Mary's 3:39.2 1997 | | |
| G Varsity 4x400m | Deer Valley 3:59.0 2008 | | |
| B Varsity 4x400m | Castlemont 3:19.1 1960 | | |